HOT!! Commercial Fitness Equipment Leg Press Machine 45 deg
Product Description
Gym Equipment Price / Leg Press (XR26)
Specification:
Item No: XR26
Machine Name:  Leg Press
Size:  2200 x 1640 x 1450mm
Weight: 188KG
1. High quality Q235 stainless steel tube: 100*50*3mm thickness;
2.  Cushion & back pad: Full closed one-time molding PU foam with synthetic leather,   keep shape for a long time;
3. Steel cable: ø5.8 jacketed with PVC ø7.8mm outside diameter;
4. Pulley: Cast iron, ø106x20mm, with sealed bearing 6202RS;
5. Weight stack: Made of cast iron, the loading bearing ranges from 5kg-80kg at          intervals of 5kg between two neighboring plates;
6. Surface Finish: 2 layer electrostatic powder coating with good adhesive force;
7. According to optimum exercise biomechanics, the professional design makes this     machine cooperate with the body very well,;
8. Pretty TIG welding
9. Offer OEM service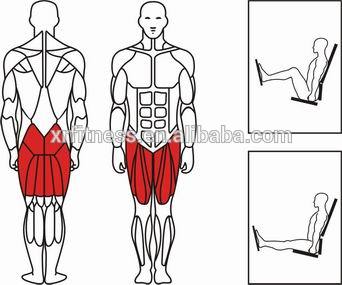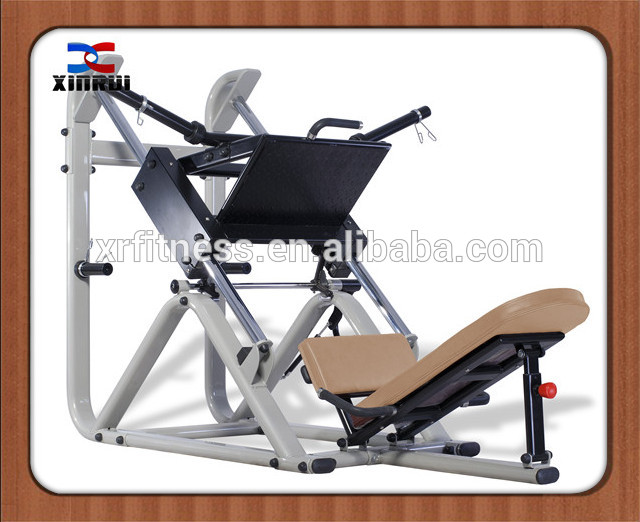 The leg press machine is a great way to enable beginners or even more experienced exercisers to develop strong, powerful muscles in the legs and buttocks. It's a good alternative to the more advanced free weigh 
The 45 degree leg press is a great way to work the muscles in the buttocks, thighs and calves. It's easier for less experienced exercisers to perform than a barbell squat because the fixed path movement of the machine requires less technique, but it allows you to work with increased weight to quickly develop strength in the legs and buttocks
Leg Press Machine, 45 deg Steps:
Step 1:
Load the machine with an appropriate weight for the exercise and goal you are working towards.
Step 2:
Position yourself into the seat on the leg press machine with your feet on the platform.
Step 3:
Position your feet so they are slightly wider than shoulder width apart.
Step 4:
Disengage the platform from the rack.
Step 5:
Slowly bend the knees to lower the weight until your knees are roughly at right angles.
Step 6:
Drive against the foot platform with your feet until your legs are straight, but don't lock the knees.
Step 7:
Pause briefly and repeat for the required number of repetitions.
1. packed in plywood on pallet with polybag wrapping the equipment parts
2. as the customer requests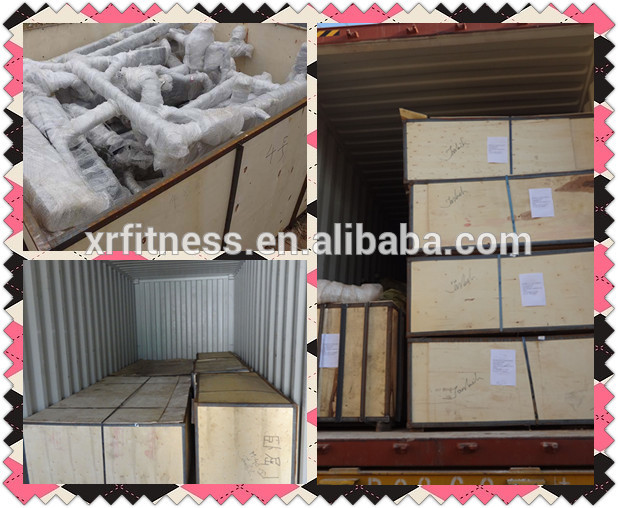 Ningjin Xinrui Fitness Equipment Co.,Ltd, a world-famous fitness equipment manufacturer, was set up in the year 2005. We specialize in designing, manufacturing and exporting professional fitness equipment and sports equipment which can be used in the Fitness Clubs, schools, recreation centers, homes, gyms etc.
       Now we are mainly supplying Pin Loaded Equipment, Plate Loaded Equipment, Cardio Equipment and Free Weights. Our products have been exported to many different countries, such as USA, Canada, Japan, India etc. and are all welcomed by our customers throughout the world. Here, we promise you the first-rate fitness equipment at attractive and reasonable prices. 
Our Quality &Service:
     A very strict quality control is performed from the raw material to equipment parts, finished products and packaging to make sure that every equipment is qualified and in accordance with body Physiology before container loading.
     We believe that "There are no captious customers, only imperfect products ". Therefore, we are always ready to improve ourselves in terms of not only pre-sales but also after sales as we know after sales is the real beginning of service.
  Thanks for your time! Nevere hesitate to contact us for updated prices and informations!OR we can design for your own body buliding equipment.
I am kelly .  Skype:gymequipments03,Welcome your inqury.
Product Categories : Ungrouped XR Series